Electric boats are quiet, reliable, and easy to operate. They're great fun, cost almost nothing to run, and are pollution free, taking their energy from the sun.
Is this the ideal personal boating experience? We think so!
If you have designed or manufactured a sunboat, let us know so we can feature it here. We are based in the beautiful city of Nice, on the French Riviera (Côte d'Azur).
If you would like to rent a vacation apartment in Nice take a look at our sister site www.innervision.com
SeaZen Solar Boat for Rental
Spend a day at sea in an intimate, upscale atmosphere ... included WiFi on board !
100% solar boat - for up to 8 people.
Soak up the beauty of the French Riviera with silent running twin electric motors.
Rentals - Training - Boat Club
(at Beaulieu harbour, near Nice)
Website: SeaZen
Shikara Boat
The eco friendly 23 ft x 6 ft, 4+1 seater Shikara boat has positive buoyancy incorporated in the hull and stabilizers. It's powered by a high efficiency solar driven electric 12v outboard with smaller solar panels for lights and music system.
It's suitable for small or big lakes, amusement theme-park boating and for lagoons, marinas and calm waters.

$5800 from Dolphin Recreation, Udaipur
The Electric Blue
The Electric Blue SolarYacht team is currently building a solar powered yacht in an effort to break all existing solar boat speed over distance records in the US, as well as set over 100 new speed records. This boat will be the second largest Solar Powered boat in the world, and the largest in the US.
The goal is to show that Solar Power is a viable power solution for boats and the marine industry as a whole. As the boat travels the over 6,000 miles around the Great Circle Loop, it will stop in over 50 different major cities, and provide tours to Schools, Universities and and industry leaders.
Mountain Lake Explorer

This boat was designed and built from scratch to undergo extended summer explorations of remote mountain lakes in the Canadian Rockies. Most of these lakes are sparsely populated so the boat must carry sufficient supplies for about 2 weeks.
Since the very beginning solar power was the paramount issue, providing charging energy for 225Ah battery bank. The battery is powering 2 Torqeedo Cruise 2.0R electric motors, drawing an average 1kW at 6-7 km/hr.
A suitable sun-harvesting system of PV modules was installed on the cabin roof and - recently - on the canvas canopy above the back deck. The array can deliver 600W on a sunny day, which nicely decreases battery drainage to approx.25A. In this scenario the boat can make a slow but steady 50km long trip, leaving enough energy for overnight mooring. In most situations the battery is fully charged next morning, ready for another electric drive. Well, unless it is a rainy day...
Roiro Whisper 55

The award winning Roiro Whisper 55 features innovative keel design and a silent running solar powered motor offering ecological benefits. See the company website at roiro.se for more details.
The Loon

The Loon is a solar powered vessel produced by the Tamarack Lake Electric Boat Company.
It travels down the historic Rideau Canal which spans from Kingston to Ottawa, Ontario. Loons are traveling birds and what better trip to take than along a 150-mile, 174-year-old waterway chock full of scenic places to explore?
Approximately half of the energy required for this journey was provided by the sun and half was provided from the shore power available from lock stations and marinas.
The Loon used for this journey was a fully-equipped version, complete with a modern galley (with sink, microwave oven, fridge and barbeque), full weather protection for overnighting and sleeping accommodations.
The Mog
The MOG solar electric yacht was started as an initial design in 1986, keel laid in 1988 and photo here was made 1990.
30 feet long and 11 foot beam with twin 5 hp Baldor 48 Volt DC motors.
The Mog set American distances of 134 miles and 512 miles in unprotected salt waters along the east coast of the USA with solar electricity only.
The MOG is a solar electric yacht created for intracoastal waters and a leisurely pace.
Length 39 feet, eleven inches.
Beam 11 feet, 4 inches.
Draft 1 foot, 6 inches (.45 meter).
Air draft (bridge clearance) eight feet, two inches (2.49 meter).
Weight about 12,000 pounds.
6 photovoltaic modules of 235 watts each (1410 watts total).
2 10 hp inboard or outboard electric motors using eCycle motor technology ecycle.com.
1 60 hp auxiliary engine (additional speed or auxiliary/emergency use).
Top speed 7 knots. Cruise 2-3 knots.
Full head with sink and separated full standing shower.
Interior height 82 inches throughout.
Forward saloon and aft salon with fold down queen bed.
Head and galley are midship, between saloon and salon.
No through holes in hull below water line.
Probable foamed lead or lithium ion batteries by October 2012 (10 to 20 kw).
Currently, standard lead acid batteries.
Alkaline fuel cell slated for 2012/13 from Apollo Energy Systems.
Solar hot water with propane back up.
Galley has refrigerator, propane stove with oven in an Avonite & Corian counter/sink unit
Above is the same boat stretched from 30 feet to 40 feet about 2008 to 2010.
George McNeir III
106 N. Water St., Suite 810
Wilmington, NC 28401
Website: Mog Canal Boat
SUNBOAT DESIGN PROJECT
Ron Aragon, of Merced, California is looking for help designing a dream boat:
I would truly like to work with somebody in designing a boat incorporating the designs from the Suncat 23 (the overhead panel system), the Alpha (sleek, fast hull design), and a Boston Whaler runabout (hull design--stability on the water as well as maneuverability) mixed with a houseboat/yacht combination of design ideas.
I have had a fascination with boat design all of my life and would like to create something functional as well as innovative for living and traveling on water. I would like to incorporate the various solar boat designs into boats of all sizes to include pleasure boats for small lakes, large lakes, bays and rivers, as well as global passage yachts and various live aboard vessels.
If you are interested and feel you can help you can write to Ron c/o admin@sunboat.com
The Solar-Powered Personal Boat
Safe, clean, quiet, effortless to operate, virtually maintenance free, and requiring minimal nautical knowledge, this is perhaps the world's most perfect boat. Capable of ferrying up to 4 adults, the boat's 700-wat electric motor moves the craft silently at 5 mph. The motor is powered by four deep cycle batteries that are constantly recharged by the sun during daylight hours, even when overcast. Because the batteries hold up to a 6-hour charge, the boat can be used at night as well; for extended night operation the batteries can be recharged from an outside source. Fiberglass hull, powder-coated aluminum superstructure, galvanized iron boat trailer.
The 550 Solarboat with 800 W engine
Length: 5.5 m Width: 1.8 m
Due to the application of advanced space technology it's possible for the first time to mass produce an electric boat with the best performance and luxury fittings. A boat that is powered without a connection to the mains at all.

Strange constructions with unwieldy glass panels are things of the past. The user can now enjoy plenty of space nor with a very modern design.
We even feature new, accessible solar cells.
"The world's most scenic bays don't have sockets"
The most outstanding advantage is the absolute independence from an electrical connection or a gas station like you'd need for a motor boat.
Thus, it's not only possible to sail in remote areas and natural resorts but also on popular lakes where berths are rare. All this innovative solar boat needs is a buoy or it just drops anchor.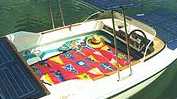 After turning the seats down you get a comfortable sleeping area
that is 1.8 m long and 1.4 m wide.
Sunshine is free. In Austria no driving licence is needed for this boat , and registration is also unnecessary.
Main building material: GRP 3-Schalenbauweise
The boat is built from polyester GRP. The boat uses the 3 bowls building method with floating unsinkbar.
Length: 5.50 m
Width: 1.84 m
Depth: 0.4 m
Weight: approx. 480 kg
Engine: 800 Watts underwater engine with either 2-step circuit or electronic regulation.
Batteries: 24 V 180 ah (C20) lead acid
Battery charge: For each sun day in the spring and autumn 30 ah (24 V)
in the summer 40 - 50 ah (24)
with covered sky approx. 20 ah (24 V)
Speed: at full power: 5 knots
at half power:4 knots
Range/travel time: During optimal sun exposure the boat can be driven at 5 knots with full power up to 6 hours. At 4 knots, 10 hours is possible.
At night the boat can be driven for 4 hours at 5 knots or 6 hours at 4 knots.
In sunshine at 2-2.5 knots the boat can be driven for an unlimited period.
Load-carrying capacity 4 people